Collaborating with Our Clients to Create the Future with the Latest Tools & Techniques
Amentum provides engineering services that span the entire program lifecycle – from initial needs analysis, development, and maturation to production, deployment, and sustainment. Our experience with the full lifecycle – not just the beginning – ensures our clients get solutions that work for the long term.
Model Based Systems Engineering (MBSE) Collaboration Center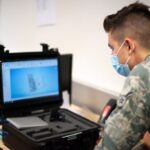 The MBSE Collaboration Center, located adjacent to NSWC Crane, brings together the top private-sector and government engineers, the latest tools, and advanced digital domain models to enhance collaboration and to visual solutions to defeat emerging threats.
Model Based Systems Engineering (MBSE)
Prototyping Systems Engineering
System Safety Engineering
Research & Development
Systems Integration
Capability & Platform Modernization
Software Engineering (Agile, Scrum, Spiral, Waterfall)
Nuclear Repository Design