Developing a smarter workforce based on operational experience
Many organizations are at an important moment, facing the need to support learning anytime, anyplace, and across a variety of platforms. Amentum combines real-world knowledge built on decades of experience with enhanced learning methodologies, best practices, innovative technology, and program assessments to generate a solution that works now and into the future. We are well-versed in training research and the effective application of emerging training technologies and have a strong track record or providing operational, institutional, and self-development programs to the US Government, its allies, and commercial customers.
Phoenix Consulting & Training Center
Amentum offers training under our Phoenix Consulting Group (PCG), which has 25+ years' experience serving the training needs of the U.S. government, law enforcement, and civilian corporations. Training provided by PCG is fully accredited by the International Association for Continuing Education and Training (IACET).
Model Based Systems Engineering (MBSE) Collaboration Center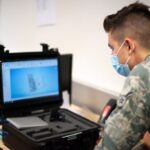 The MBSE Collaboration Center, located adjacent to NSWC Crane, brings together the top private-sector and government engineers, the latest tools, and advanced digital domain models to enhance collaboration and to visual solutions to defeat emerging threats.
For more details about the Center's capabilities, please see the launch announcement.
Augmented Reality / Virtual Training
Live, Virtual Constructive Simulations
Synthetic Training Environment
Learning Management Systems
Training System Development & Integration
Model Based Systems Engineering (MBSE)
Flight / Pilot Training
Ship / Submarine Training
Weapon Systems Training
Cybersecurity Training
Medical Training
Special Forces Training
Intelligence Training
Language Training
Negotiation
Course Development
508 Accessibility
Training Evaluation
Training Facilities & Ranges