Supporting Training & Testing Anytime, Anyplace, and Across Platforms
Amentum brings real-world experience to deliver effective, individually tailored training that ensures people have the right skills and are matched with the right tools to succeed. As the world has changed, we have adapted our approach to virtualize our offerings – VR training, synthetic training environments, and digital twin evaluation environments.
We support training across numerous areas including:
flight / pilot (rotary & fixed wing)
ship / submarine 
weapons systems / platforms
medical
Model Based Systems Engineering (MBSE) Collaboration Center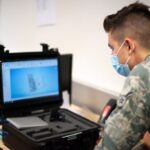 The MBSE Collaboration Center, located adjacent to NSWC Crane, brings together the top private-sector and government engineers, the latest tools, and advanced digital domain models to enhance collaboration and to visual solutions to defeat emerging threats.
Live, Virtual Constructive Simulations
Synthetic Training Environment
Learning Management Systems
Training System Development & Integration
Exercises & Wargames
Training Evaluation
Course Development
Intelligence Training
Special Forces Training
Test & Evaluation for Weapons & Systems
Lessons Learned Analysis
Test Facilities & Ranges
Training Facilities & Ranges